Nadine Dumas
President
Nadine Dumas is a Canadian certified genetic counsellor with nearly 15 years of experience in clinical genetics. Originally from New Brunswick, she obtained her master's degree in Genetic Counselling from McGill University in 2003. Nadine has worked as a genetic counsellor in prenatal diagnosis at the Jewish General Hospital in Montreal and in general and cancer genetics at the Maritime Medical Genetics Service in Halifax Nova Scotia. Since 2008, Nadine has been at the Centre Hospitalier de l'Université de Montréal (CHUM) as a genetic counsellor, working mainly in cancer genetics. Nadine in involved in the training of genetic counselling students as a clinical supervisor, guest lecturer and as a member of the Comité d'études supérieures of the Université de Montréal genetic counselling program. Nadine has been an active member of the Canadian Association of Genetic Counsellors, including positions on the board of directors and the certification board. Her main areas of interest are related to predictive genetic counselling and testing, and non-traditional models of delivering genetic counselling services.
Laura Nuñez
Secretary
Laura Nuñez is a genetic counsellor currently working at the Department of Genetic Medicine at the CHUM. She obtained her first master's degree in research in human genetics before completing her 2nd Master's degree in genetic counseling at McGill University. After graduation, she worked with the Genetics team at the University Hospital of Sherbrooke and at the Quebec Coalition of Orphan Diseases (RQMO). After being certified by the Canadian Association of Genetic Counselors, she joined the genetics team at CHUM where she works with patients and their families affected by hereditary predispositions to cancer and neurogenetic diseases. In addition to her clinical role, she also contributes to the trainning of genetic counselling students in the University of Montréal trainning program.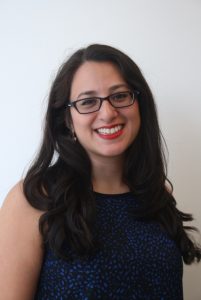 Karen Canales
Treasurer
Karen graduated from the Master's of Genetic counselling from McGill University in 2014 and is ABGC-certified since 2016. She has worked in Cancer genetics from 2014-2015 and currently works as a genetic counsellor in prenatal diagnosis through the Medical Genetics department at the McGill University Health Centre. She is involved in the admissions process for the Master's of Genetic counselling program, in the development of curriculum, teaching and training of various trainees, such as medical students, Maternal-Fetal-medicine fellows, and medical genetics residents and genetic counselling students.
She has and continues to participate in a number of committees through the Canadian Association of Genetic Counsellors, including the Genetic counselling awareness committee (co-chair 2015-2016).